The Perfect Synergy of Laser and Light
Especially recommended for Vascular Lesions, Scars, Stretch marks,
Psoriasis, Anti-Aging, Wrinkles, and Pigmented Lesions
Synchro VasQ, with unique features and novel RightLight™ Technology, 
guaranteeing a selective action and protection of the dermal structures surrounding the lesion.
The Revolutionary Dual Wavelength Technology (CO2+1540 nm)
BEST EMISSION CHARACTERISTICS
At 595 nm and the ability to treat all vascular lesions and superficial pigmented lesions, scars, warts, and psoriasis.
Laser handpieces with spot sizes ranging from 5 to 12 mm, with automatic spot recognition.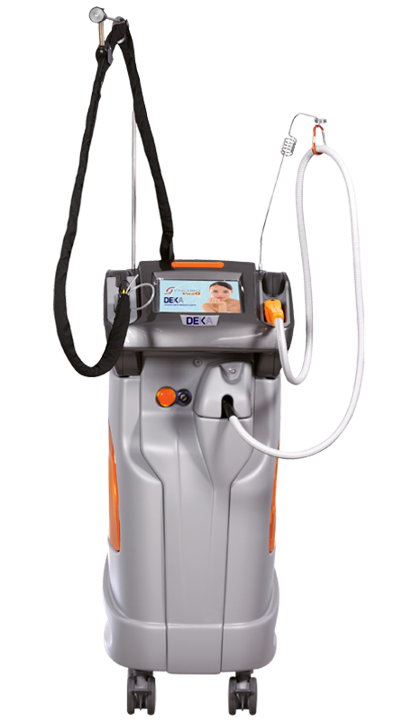 Increased fluences up to 10 J/cm2 with a 10 mm spot size.
Exclusive and selective DEKA Pulsed Dye Lamp handpieces with wide emission areas for better treatment of superficial lesions.
Ready-to-use knowledge, thanks to the integrated protocols designed for dermatology.
Synchro VasQ - The New Dye Laser

Greater innovation for
Synchro VasQ is the new dye laser from DEKA,
able to release energy in micro pulses, with a clear benefit in
terms of reducing post-treatment purpura.

The greater amount of energy available makes it possible to use a maximum spot size of 12 mm.

This improves the therapeutic approach and the treatment speed, especially for more extensive lesions, always guaranteeing maximum patient comfort.
Synchro VasQ can also use the innovative RightLightTM technology
RightLightTM handpiece with treatment area up to 6.3 cm2 (5.5 times larger than the maximum area with the 12 mm handpiece of 1.13 cm2).
Thus, the treatment of superficial vascular lesions, such as erythrosis and rosacea, is extremely effective.