Deep Rehabilitation of the Pelvic Floor for Women's Inner Harmony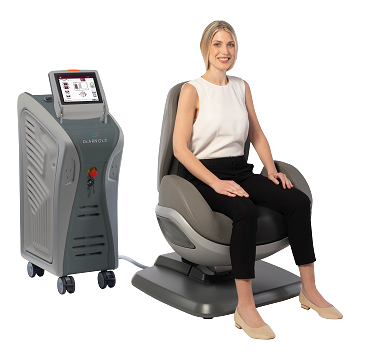 Non-Invasive and Top Flat Magnetic Resonance with Homogeneous Distribution
for Female Urinary Incontinence and Chronic Pelvic Pain Syndrome (Gynecological, Urological, Colorectal, Sexual)
TOP FMS technology– ensures homogeneous & even intensity distribution without peaks over a sufficiently broad area. Even stimulation ensures greater tolerability and efficacy.
Female Intimate Health is Our Core
Dr. ARNOLD is the solution by the DEKA therapeutic pathway for female intimate health in the treatment of urinary incontinence and improvement of patient's quality of life.
The patient's position is key to the effectiveness of the treatment. This is why DEKA designed a lounge chair whose backrest and height are adjustable to assure that the patient can achieve the optimal position to benefit from the treatment, whilst in full comfort and relaxation.
Women's Intimate Health and Quality of Life are our Goals
The action of Dr. ARNOLD expands considering its preventive action in many spheres of women's intimate health:
Gynaecological: prevention-therapy of genital prolapse
Urological: prevention-therapy of urinary incontinence, by improving the urethral support and the closing mechanism, especially when straining
Colorectal: prevention-recovery of anorectal function
Sexual: positive impact on sex life, by bolstering perineal muscles
Dr. ARNOLD is a non-invasive therapeutic device that employs a specific electromagnetic field (TOP FMS Technology) to interact with neuromuscular tissue through tailored protocols. It addresses both hypotonus by inducing deep contractions that stimulate pelvic floor muscles, and hypertonus by inhibiting muscles to reduce pain. The outcome is improved awareness and tone of pelvic muscles through perineal muscle rehabilitation.
Dr. Arnold system offers the possibility to choose among three different types of protocols that have been developed based on needs of the patient, according to pathology and the patient's muscle condition:
Muscle work aimed at recovering trophism and muscle tone.
Muscle work aimed at increasing trophism (volume) & muscle strength.
Muscle work aimed at muscle inhibition & pain reduction.