The Right Pulse For Every 
Medical-Aesthetic Practices
Light, Versatile, User-friendly and Intense Pulsed Technology
Recommended for Hair removal, Vascular and pigmentary lesions, Photo-rejuvenation, and Meibomian Gland Dysfunction (MGD).
EXTREMELY COMPACT AND LIGHTWEIGHT
The Device Weight is up to 16 kg with dual emission control systems (Footswitch and Finger switch). The Handpiece is compact and lightweight weighing around 700 g for effortless treatment.
6 INTERCHANGEABLE FILTERS
Interchangeable filters, with different emission spectra, for a single pulsed light handpiece. 
It takes only a moment to adjust the emission to the specific application and the patient's phototype.
INTEGRATED SKIN COOLING TECHNOLOGY IN THE HANDPIECE
With one of the largest emission surfaces in the market (48×17 mm). 
Hair removal treatments on large areas such as chest, legs, or back, are carried out more rapidly and in total safety.
THE FRACTIONED PULSE:
A SAFETY GUARANTEED
Minisilk FT pulse offers three fractioned pulses, ideal for safe treatment outcomes for all skin types.
Higher fluences are enabled, safeguarding skin via intelligent technology, and preventing thermal damage.
REDUCED RISK OF THERMAL DAMAGE
A Special skin-cooling system ensures painless, non-invasive, safe, and effective treatments with minimal side effects.
HELPS IN IMPROVING SKIN TEXTURE & REJUVENATION
The pulsed light stimulates the production of new collagen, improving skin tone, texture, and glow. As a result of its speed and precision, gives the skin a natural lifting effect.
6 interchangeable filters with different emission spectra:
6 interchangeable filters with different emission spectra:
A complete range of wavelengths at the physician's finger tips.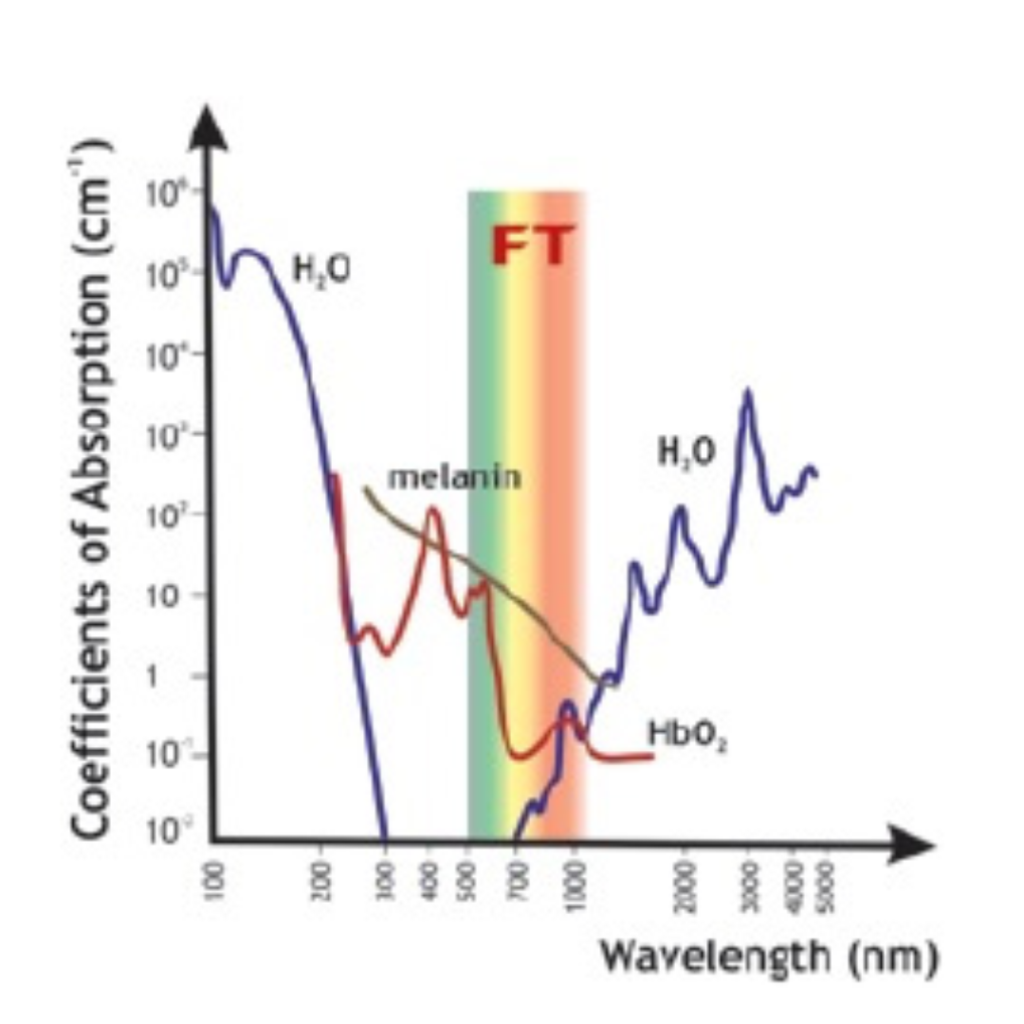 Main skin chromophores absorption spectrum:
Melanin, water and oxyhaemoglobin.
The interaction of the different wavelengths and skin layers determines the choice of the appropriate filter based on the treatment and patient phototype.